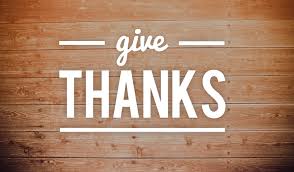 When things go right for us it's very easy to be thankful and have a testimony.
Is it possible to do the same when things go South?
God says in everything, give thanks because he work all things together for good.
He's a God who turns things around. He's able.
Romans 8:28 And we know that for those who love God all things work together for good, for those who are called according to his purpose.
God can use anything for your growth and His Glory.
1 Thessalonians is a command… to give thanks in everything. It is required as a principal choice.
It is not a circumstantial decision. It's a Must.
Heartfelt confession and mouth expressed thankfulness releases God's blessing for our possessions.
The greater the thankfulness the greater the spiritual power we possess.
The devil is put on notice when a child of God gives thanks no matter what he or she is going through.
Psalms 50:23 The one who offers thanksgiving as his sacrifice glorifies me; to one who orders his way rightly I will show the salvation of God!"
Paul and Silas in their service to God found themselves in prison.
1 Thessalonians 5:18 give thanks in all circumstances; for this is the will of God in Christ Jesus for you.
Acts 16:23 And when they had inflicted many blows upon them, they threw them into prison, ordering the jailer to keep them safely.
While in prison they resorted to praising God.
Romans 1:8 And when they had inflicted many blows upon them, they threw them into prison, ordering the jailer to keep them safely.
1 Corinthians 1:4 4 I give thanks to my God always for you because of the grace of God that was given you in Christ Jesus,
Philippians 1:3 I thank my God in all my remembrance of you,
Colossians 1:3 We always thank God, the Father of our Lord Jesus Christ, when we pray for you,
NB: IN EVERYTHING GIVE THANKS.
People don't complain because they have problems, they have problems because they complain.
Psalms 77:3 When I remember God, I moan; when I meditate, my spirit faints. Selah
Complaining grants Satan unlimited access in our lives.
By standing in Stubborn Thankfulness, you do not ignore what's happening around you but making a choice to be grateful at all situations.
Daniel 11:32 He shall seduce with flattery those who violate the covenant, but the people who know their God shall stand firm and take action.
Daniel 6:10 When Daniel knew that the document had been signed, he went to his house where he had windows in his upper chamber open toward Jerusalem. He got down on his knees three times a day and prayed and gave thanks before his God, as he had done previously.
Despite his stubborn challenges, Daniel tried to be grateful stubbornness.
NB: A thankful spirit is extraordinary.
Luke 6:45 The good person out of the good treasure of his heart produces good, and the evil person out of his evil treasure produces evil, for out of the abundance of the heart his mouth speaks.
A thankful spirit is an obedient one.
Daniel 6:4 Then the presidents and the satraps sought to find a ground for complaint against Daniel with regard to the kingdom, but they could find no ground for complaint or any fault, because he was faithful, and no error or fault was found in him.
When we lose our gratitude for salvation we become careless and let go obedience.
1 Peter 2:17 Honor everyone. Love the brotherhood. Fear God. Honor the emperor.
A thankful spirit is Faithful
Daniel was consistent in his service to God and man.
A thankful spirit is a trusting one
Daniel 6:23 Then the king was exceedingly glad, and commanded that Daniel be taken up out of the den. So Daniel was taken up out of the den, and no kind of harm was found on him, because he had trusted in his God.
Romans 8:32 He who did not spare his own Son but gave him up for us all, how will he not also with him graciously give us all things?
Stand in the stubborn thankfulness despite all, in Jesus Name.
Amen!
Comments are closed.